Vacantes, increíbles tips, recursos y más sobre
''La Industria de la Animación en México''.
Artistas 2D (Concept Artist/UI Designers) (Todos los niveles),


Rangos de Sueldos – De $6,500 a $30,000 pesos libres al mes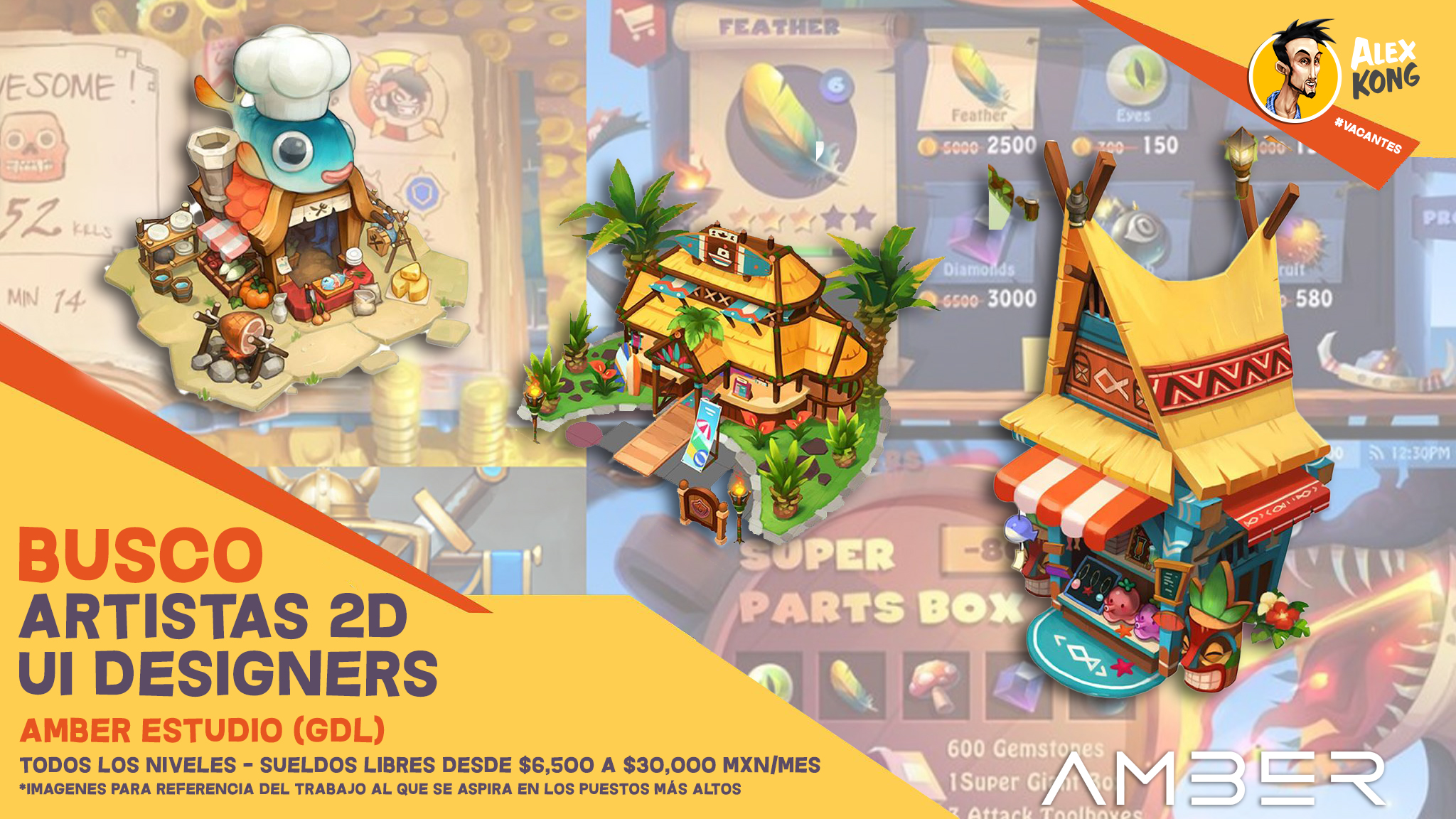 Acerca del Puesto
Artistas 2D (Concept Artist/UI Designers) (Todos los niveles)
---
Perfil
Looking for passionate, experienced 2D Artists/UI Designers to work with our game development team.
---
Sueldo
Rangos de Sueldos – De $6,500 a $30,000 pesos libres al mes
---
Responsabilidades
Main responsibilities
Develop concept art and orthographic views for 3D designers to implement into working models
Create the look of new assets by working closely with the Art Team to establish a consistent visual direction
Generate visually appealing UI Designs based on UX wire templates
Sketch, ideate, and iterate concepts in collaboration with fellow concept artists
Contribute to the creative process with original ideas and inspiration
Other responsibilities
Produce work within an efficient and timely manner, to maintain production schedules
Collaborate with designers on solving gameplay problems while maintaining artistic vision
Work with our animators to guide creation of adequate designs with animation considerations taken into account
Collaborate closely with writers, animators, game engineers, and splash artists to create winning concepts that are both narrative and visually cohesive
Be an avid researcher and collector of story archetypes and narrative devices of all kind.
---
Habilidades
Traditional artistic skills with a good grasp of composition, anatomy, color theory, perspective, lighting, environment, architectural, creature/character, costume and graphic design
A good sense of design oriented towards the stylized and cartoony.
Ability to adapt to or generate a variety of potential styles as needed.
Ability to design for both 2D and 3D games
Mobile development experience preferred but not required
Traditional animation experience is highly desirable as applied to exploring character through posing and expression
Good communication and written skills
Candidates must be able to work in a small, focused team of designers, artists and programmers with short development cycles
---
Experiencia
Requirements
Desired Art Education degree but not indispensable
Experience as a Concept Artist, UI designer or similar role.
Demonstrable portfolio of completed concept designs
A strong sense of color and composition.
Solid knowledge of Photoshop
Good drawing skills, well versed in human anatomy
Storyboarding or comic drawing skills are a good plus
Decent English communication skills are a must
Only open for people legally able to work within the Mexican territory
---
Software
---
Prestaciones
20 días pagados de vacaciones al año
---
Contrato
Contrato por 1 año
Periodo de prueba pagado: 3 meses
* Después de los 3 meses hay la posibilidad de entrar en un contrato a tiempo indefinido con opción a entrar en un esquema con prestaciones de ley.
Incorporación: 11 de Mayo 2020
Horario de 10 am a 7 pm sin opción a trabajo remoto (Sólo temporalmente por la situación actual)
De momento podemos trabajar a distancia, pero en cuanto se normalice la situación actual por el tema COVID será requisito vivir en la ciudad de Guadalajara
What we Offer:
A diverse portfolio of projects in which you will be involved based on your skill set and desire for professional development
An ideation team where you can bring your creative ideas which will be equally valued as your artistic expertise
Great work environment, awesome people to work with
Rangos de Sueldos
Junior – $6,500 a $8,450
Mid – $10,000 a $13,000
Senior – $13,500 a $17,550
Lead de $25,000 a $30,000
* Sueldos libres de impuestos (La empresa se encarga de tus declaraciones y pago de impuestos)
** Los sueldos están sujetos a un esquema de metas personales y por equipo
Junior to Senior level artist will execute the described tasks to their respective skill level, tackling task appropriate for them.
Lead Artists are also required to Lead and aid other artists in their team cells, as well as promote their growth as artists.
---
Guadalajara, Jalisco.
---
¿Estás interesado?
¿Te late? ¡Aplica al puesto aquí!
Providing a link to your portfolio or demo reel when applying is mandatory.
APLICAR AQUÍ
¡ARRE!